Meet The Chefs
Three masters of traditional Japanese cuisine, from kaiseki and sushi to tempura and teppanyaki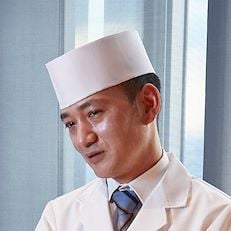 Hisao Ishida
Chef de Cuisine, Hinokizaka
Hisao Ishida
Chef de Cuisine, Hinokizaka
Born in a Japanese restaurant owner family in Odawara, Kanagawa prefecture, he started learning Japanese cuisine since he was at a very young age by helping his family business. Fascinated by restaurant environment, liveliness of a kitchen and the ever evolving culinary creations, he uncovered his natural ambition to become a Japanese cuisine chef when he thought about his career. In 1990, he took his first apprenticeship in a well-established ryotei-style restaurant "Insho-tei" in Ueno, Tokyo. Thereafter, he continued his apprenticeship with several famous restaurants and luxury hotels in Tokyo, before joining Hinokizaka in 2017. After being in charge of the Kaiseki section, he supervised the whole Hinokizaka from 2018 and currently serves as Chef de Cuisine of Hinokizaka.
Ishida's motto as a chef is similar to a famous Japanese proverb, "Onko - Chishin", which can be translated as "Find new wisdom by leaning old things." It gives him the motivation to stay passionate about what he does, to create and to serve traditional Japanese cuisine. "In Japan, it is very important for us to respect the seasons and the time when the ingredients are produced by nature as we prepare our food," said Ishida. In honoring this tradition, he likes to stay original with his cooking concept and to use only the ingredients that represent each season. This way, he can invite the guests to experience the foods with their five senses and so they can also enjoy and celebrate each season with their eyes and palates.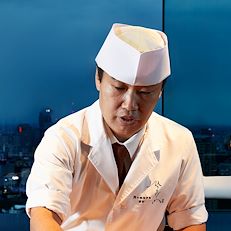 Tadaaki Nomura
Sushi Chef, Hinokizaka
Tadaaki Nomura
Sushi Chef, Hinokizaka
Joined at The Ritz-Carlton, Tokyo as Hinokizaka Sushi Chef in May 2007. He had started his first training of sushi carrier at a privately run sushi restaurant in Tokyo. After his experience of the bottom of the career such as cleaning, washing the dishes every days in his early days, he has improved his skill at the hotels and sushi restaurants in Ginza, Tokyo. "This is a worthwhile job for me as we welcome the guests right in front of our eyes and spending a rich time with them, and we can get their feedback directly," said Nomura. He has been offering Japanese traditional Edomae sushi style while he has also been trying new things to create new surprises for the guests. Nomura is passionate about every moment from daily purchase to preparation and provision, not only to offer delicious sushi but to give the guests greatest moments.